Going above and beyond for customers
The story of Bed Bath & Beyond's explosive growth in online sales is a fascinating one. As the company's CEO Trevor Brown explains it, they needed a partner with an eCommerce platform that supported their 58 stores, not competed with them.
Achieving online sales of 2-3% of total sales within 12 months was one of the specialist homewares and manchester retailer's goals for the project – which they smashed in six, working with eStar.
Read about the results of the partnership between eStar and this fast-growing retailer here.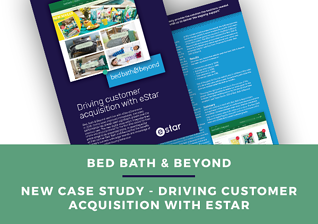 Driving customer acquisition with eStar
Bed Bath & Beyond went live with eStar eCommerce in 2018.
Online sales began to improve immediately and sales performance has already seen significant growth over the previous year. The new digital store which integrates their online and physical stores for the first time allows for their entire range to be presented online.
In selecting eStar as their partner Bed Bath and Beyond has the benefits of eStar's success with larger brands and knowledge of Australasian online buying behaviour.
Results
Since the website went live, Bed Bath & Beyond has seen significant increases in:
Transactions volume (+ 103%)
Average order value (+ 28%)
Total revenue (+ 161%)
Total sessions (+ 30%)
Conversion rates (+ 57%)
---
Why choose eStar?
Trevor Brown, CEO of Bed Bath & Beyond, explains
"An eCommerce platform that supports the stores, doesn't compete with them."
Trevor Brown, CEO of Bed Bath & Beyond
Click here to read more about Bed Bath & Beyond and what eStar is doing for them.